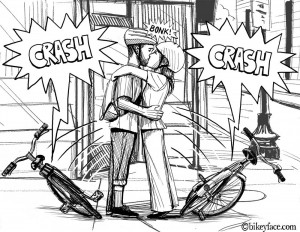 I have a good feeling about our first ever bike-date!
Today is a national holiday in Slovenia and that means I finally have some time off! I'm using the time to relax, read a great
Terry Pratchett
novel, then complete the day by taking my wife-to-be out on a date-night. And since we're getting into the Swedish spirit we are making it a
bike-date
. We are quite excited, it will be our first!
The job hunt is going well, I think. I had a series of what I feel were very successful interviews with
Nokia
and I have
high hopes
. That means that we are slowly looking into the
"find an apartment"
phase of our project. We can't really start apartment hunting
until
I get a job, because we don't know what we will be able to afford. On the other hand we are anxious about the plane tickets - we don't want to wait until the last minute.
We're planning to visit Lund for about a week, spending the time looking at apartments and of course getting to know the city and its inhabitants. We plan on staying in a hostel or perhaps trying
couch-surfing
.
We haven't tried couch-surfing yet.
Is it common in Sweden?
Hopefully we will arrange such accommodation that will provide us with a good starting point for exploring the city and of course apartment hunting. In my mind that means it will be located somewhat central and will provide excellent wifi. If they provide a bike renting service as well that would be excellent!
This is another area where I would greatly appreciate your help, dear reader!
Care to recommend anything?
As for the dates, we still haven't decided. It will probably be around mid-June. Are there any events in Lund/Malmö in June that would help us decide? We would love to experience the local culture and perhaps some of Lund's night life. I think that our schedules are still flexible enough to move things around a bit if the opportunity calls.
It would mean the world to us if we could meet with you
(yes, you!) We hope to make new friends in Lund and I can't think of a better way than by inviting you for a cup of coffee. Would you be interested in having a nice chat and perhaps showing us to the cool part of Lund?
Jag och min sambo kommer att besöka Lund i ungefär en månad. Har du lust att en kopp kaffe? Hoppas att vi kan möta!
I will be delighted to hear any other recommendations you may have concerning Lund. Please respond in the comments or
email me!